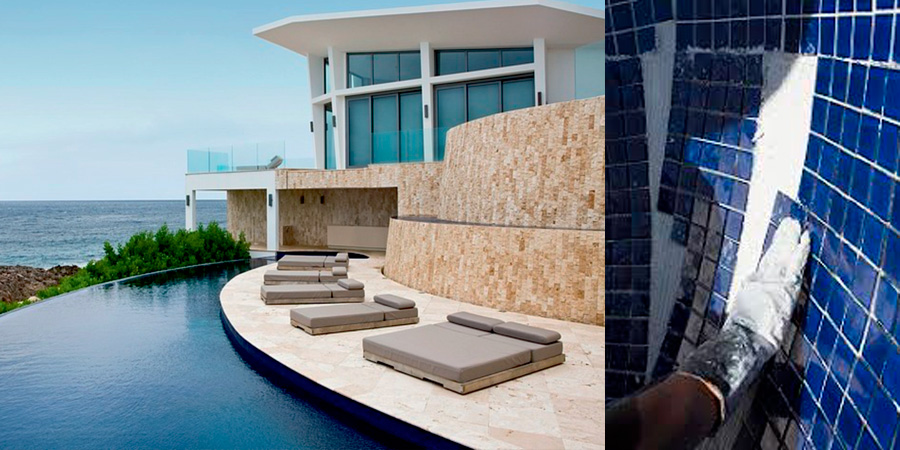 Spenza Diamond adhesive is white cement based polymer modified tile adhesive specially designed for glass mosaic applications on internal/external vertical/horizontal surfaces. Being excellent in waterproofing, designed to be used in water bodies.
Advantages
Self curing adhesive, Highly flexible, Economical saves time and money.
Excellent for glass mosaic, Fortified extra adhesive strength,
Suitable for thin bed installation.
Exceeds ANSI A 118.4/11 & En1348 for C2TES1 IS 15477:2004 Type-2, BS 5980:1980.
Excellent for underwater applications. Single component, just add water.
Exceeds Shear bond strength requirements, Ultimate adhesion for glass mosaic and glass tiles.
Excellent for swimming pools, fountains, Showers & Water Bodies etc.
Water shock Resistant
Coverage
Approx 80-100 sq.ft/ …. Bag with notch trowel for a bed of 3mm with use in glass mosaic.
Applicants
Glass tiles, Glass mosaics on internal/external wall or floor, swimming pools,
Bathrooms , water bodies, showers, fountains, Dry & wet areas, pillars, interior & exterior.
Packaging: 20 KG
Suitable Substrates
Concrete, Cement Plaster, Brick Masonry, Cement Backer Board, Concrete Masonry, Cement Mortar Beds, Ceramic Tile and Stone, Cement Terrazzo, Gypsum Wallboard.
Compliance: Meets the following standards
ANSI: A 118.4 Et & EN 12004/ISO 13007 for C2TE S1
IS15477: TYPE 2 ADHESIVE
VOC : Practically Nil
Shelf Life
1 year in dry unopened bags.